No holiday season is complete without a top ten gift list. As with all my top ten lists, this is my opinion, there is no scientific method here and no order to the list, just a list of items any R/C pilot would be glad to receive.
10 – Unicorn Flying Wing
9 – Parkzone Focke-Wulf 190
8 – E-Flight Yak 54F 3D
7 – RealFlight G3.5 R/C Flight Simulator
6 – E-Flite Blade CX RTF Electric Coaxial Heli (OK, its not an airplane, but its still a great gift)

5 – Spektrum DX6 Park Flyer Radio system.
4 – A Thwing! Flying Wing from Airfield Models– this is beautiful and at $2500.00 it is truly a work of art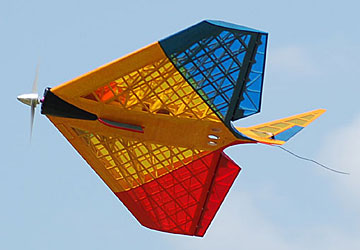 3 – Air Hogs Storm Launcher
2 – Futaba 14mz Radio System
1 – Firebird Freedom RTF Electric Airplane – excellent for beginners new to the hobby.
What else should be on this list? Let us all know, leave some comments with what you think is a great R/C gift for 2006.